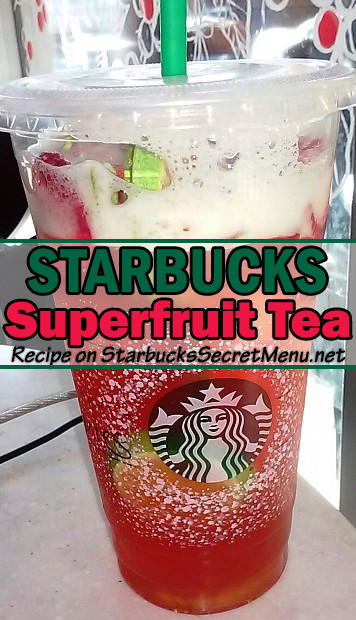 Superfruit Iced Tea

| Starbucks Secret Menu

While we enjoy our Lattes and Frappuccino's as much as everyone else, sometimes it's nice to detox a little with a healthier option.

After all, it is the New Year so we figure starting it off a bit healthier couldn't hurt.

This Superfruit Tea is definitely a great option for that! Keeping it pure with no sweetener, this tea is extremely light on the calories but doesn't lack any flavor with the addition lime slices and strawberries.

It's so refreshing, it may just be your new favorite! We suggest a venti size cup so there's lots of room for the added fruit!
Here's the recipe (venti):
Iced green tea
No added water or sweetener
1 scoop of limes
1 scoop of strawberries
Optional: 1 scoop of berries for extra fruitiness
Thanks to PM Maisner for the awesome Starbucks recipe and photo! If you have a secret recipe you'd like to share, send it in to StarbucksSecretMenu [at] gmail.com and it could be featured on the site! Attach a photo if you have one 🙂