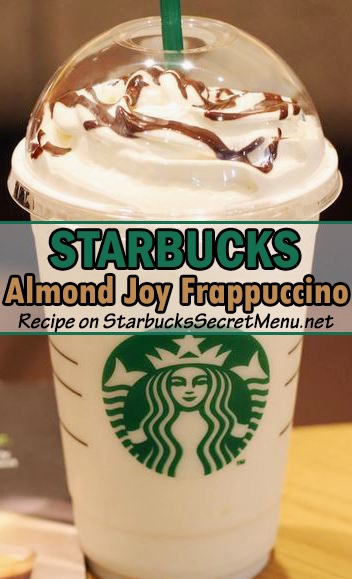 Almond Joy Frappuccino

| Starbucks Secret Menu

We love a good chocolate bar Frappuccino and the Almond Joy Frappuccino is no exception. Full of coconut and chocolaty flavors, it's one of the standout choices when you want something much different than your usual chocolate bar.

Although it's been a long time since Starbucks has carried almond syrup, a good substitute when you're adding in any nut flavor is toffee nut syrup. Just a touch adds a subtle nutty element to your beverage.

Go ahead and give this Almond Joy taste-a-like Frappuccino a try! It'll relieve that sweet tooth for any chocolate and coconut lover.
Here's the recipe:
Coconut Crème Frappuccino
Add java chips
Add toffee nut syrup (½ pump tall and grande, 1 pump venti)
Top with mocha syrup

Oh how the return of the Coconut Crème Frappuccino has given us so many more drink options! We hope it sticks around for a while and continues to make an appearance each summer!
Thanks to the many Baristas and Starbucks fans who sent in variations of the Almond Joy Frappuccino. Feel free to let us know if you discover any tweaks that make any of our secret recipes even better! And if you have a secret recipe you'd like to share, send it to recipes [at] StarbucksSecretMenu.net and it could be featured on the site!