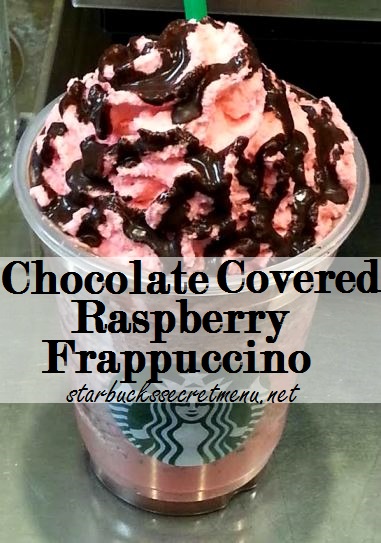 Chocolate Covered Raspberry Frappuccino

| Starbucks Secret Menu

Here's another Valentine's Day inspired recipe, just in time to mark the occasion. Feel free to enjoy this tasty concoction any time though, Valentine's or not.

Be sure to checkout our other chocolate covered recipes, Chocolate Covered Strawberry and Chocolate Covered Banana Frappuccinos. After all, doesn't chocolate make everything taste better?
Here's the recipe:
Vanilla bean Frappuccino (creme based)
Add java chips
Add raspberry syrup (2 pumps tall, 3 pumps grande and venti)
Line the inside of the cup with mocha sauce
Top with raspberry whip and mocha drizzle
Thanks to Barista Candice S. for coming up with this recipe and sharing it with us! If you have a recipe you'd like to see featured, send it to starbuckssecretmenu [at] gmail.com and it could be added to the site!