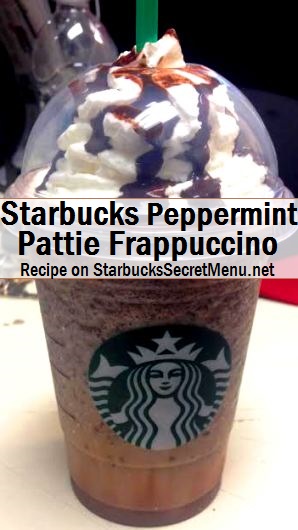 Peppermint Pattie Frappuccino

| Starbucks Secret Menu

The classic Peppermint Pattie is loved for it's contrasting flavours of dark chocolate and strong mint.

This Frappuccino version has just that. A tasty combination of mint, chocolate and even java chips for a little bit of crunch. Give it a try and you won't be disappointed!
Here's the recipe:
Start with a Vanilla Bean Frappuccino
Add java chips
Add peppermint syrup (1.5 pumps tall, 2.5 grande, 3.5 venti)
Lightly coat the sides of the cup with mocha drizzle
Top with whip and more mocha drizzle
Big thanks to Starbucks Partner Andrew for sharing this fantastic recipe with us! If you have a favourite recipe you'd like to share, send it to starbuckssecretmenu [at] gmail.com and it could be featured on the site!