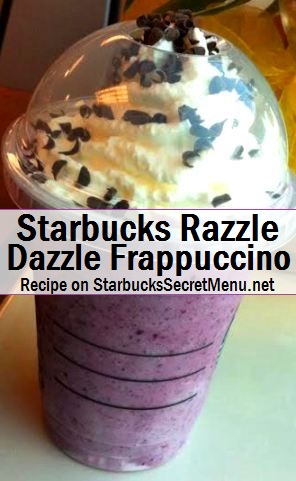 Razzle Dazzle Frappuccino

| Starbucks Secret Menu

Colour your day with this refreshing purple Frappuccino! It's fruity, chocolatey and works well as a dessert or a fun treat!

There's no caffeine in this recipe either, so it's a great option for kids. Check out our other kid friendly Frappuccinos as well!
Here's the recipe:
Start with a White Chocolate Creme Frappuccino
Add raspberry syrup (1 pump tall, 1.5 grande, 2 venti)
Add dried blackberries (1 scoop tall, 2 grande and venti)
Top with whipped cream and java chips or chocolate curls
Thanks to Amelia S. for sending this recipe in! If you have a favourite recipe you'd like to share, send it to starbuckssecretmenu [at] gmail.com and it could be featured on the site!