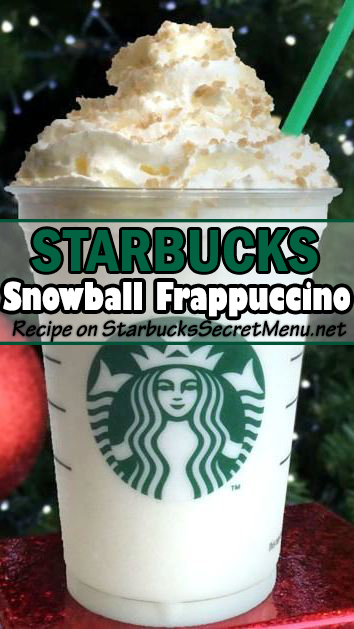 Snowball Frappuccino

| Starbucks Secret Menu

Thanks to our friends in the UK, we've been informed of a secret menu item making it's rounds all over social media and UK Starbucks locations!

The Snowball Frappuccino was quietly introduced as a secret menu item in-stores and through Starbucks UK's Twitter and Instagram accounts.

It's a White Chocolate Frappuccino, with Almond Syrup and Toffee Nut Sprinkles! While we aren't fortunate enough to have almond syrup or toffee nut sprinkles like our UK friends, there are similar substitutes that we can use to create our very own holiday Snowball Frappuccino!

Enjoy this Frappuccino year round! But note that caramel brulée topping is only available during the holidays.
Here's the recipe:
White Chocolate Creme Frappuccino
Add toffee nut syrup (1 pump tall, 1.5 grande, 2 venti)
Add hazelnut syrup (1 pump tall, 1.5 grande, 2 venti)
Top with caramel brulée topping
Thanks to Sami A. for sending in the Snowball Frappuccino! If you have a secret recipe you'd like to share, send it in to StarbucksSecretMenu [at] gmail.com and it could be featured on the site! Attach a photo if you have one 🙂