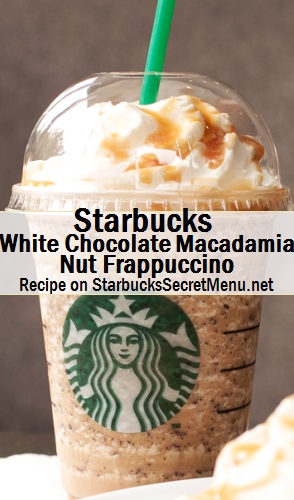 White Chocolate Macadamia Nut Frappuccino

| Starbucks Secret Menu

White chocolate macadiamia nut cookies are a fan favourite. The combination of white chocolate chunks and crunchy macadamias go together so well that we dare say this cookie is a fierce competitor to the popular chocolate chip.

While we don't have macadamia nuts in Frappuccino form, the java chips add some crunch and the flavours in this icy beverage come together to create something utterly delicious.
Here's the recipe:
White Mocha Frappuccino
Add Toffee Nut Syrup (2 pumps tall, 3 grande, 4 venti)
Add Java Chips

Optional:

Top with caramel drizzle for extra sweetness
Thanks to Vanessa W. for sending in this fantastic recipe. If you have a favourite recipe you'd like to share, submit it to starbuckssecretmenu [at] gmail.com and it could be featured on the site!