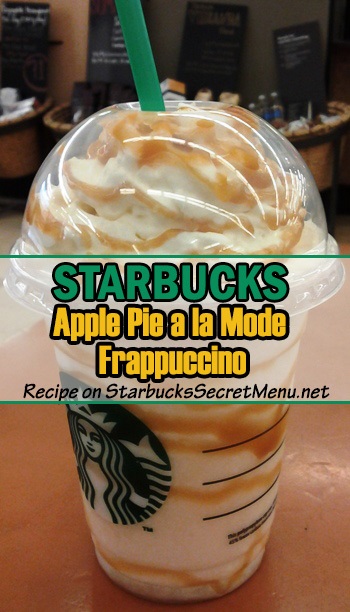 Apple Pie a la mode Frappuccino

|Starbucks Secret Menu

What better way to eat pie is there than a la mode? Having a warm slice of apple pie and a big 'ol scoop of creamy vanilla is our idea of a perfect dessert!

If you've explored the site before, you might have seen our similar recipe for the Apple Pie Frappuccino. With all the recipe submissions we receive there are many multiples but sometimes the recipes are different enough for us to post. Plus, we love that it offers some variation for people who might want to try a different version.

We could call it The Apple Pie Frappuccino 2.0 but since this recipe offers a creamier version of the original, we'll go with a la mode!
Here's the recipe:
Apple Juice to the bottom line
Add cinnamon dolce syrup (2 pumps tall, 3 grande, 4 venti)
Add Frappuccino crème base
Whipped cream blended in
Line cup with caramel drizzle and top with whip and more caramel drizzle

Thanks to Sam, Jonathan, and Natalie in Eugene, Oregon for sending in this tasty recipe! If you have a recipe you'd like to see on the website, send it to recipes [at] starbuckssecretmenu.net and it could be featured on the site!