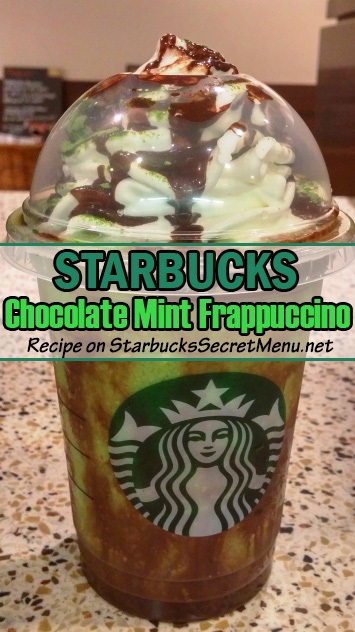 Starbucks Chocolate Mint Frappuccino

| Starbucks Secret Menu

Chocolate and mint are one of the most natural flavor combinations that come to mind. They are extremely complimentary and have resulted in some of the greatest creations of all time. York Peppermint Patties, Andes Chocolate and mint chocolate chip ice cream anyone?

Not to mention the plethora of brands that have a mint chocolate variation of their signature product. M&M's, AERO and Hershey's and Klondike Bars to name a few!

Nevertheless, the combination is timeless and we don't see ourselves getting sick of it anytime soon! This particular Frappuccino was modelled after the very addictive Andes Chocolate Mints. We're guilty of asking for extras during Olive Garden visits and we're sure we're not the only ones!

So, treat yourself and your tastebuds to this delicious Chocolate Mint Frappuccino!

Keep in mind this recipe is more detailed than most of our other beverages so be sure to leave extra time, be super patient and either show the recipe or write it down for your Barista to make ordering as easy as can be.
Here's the recipe:
Green Tea Frappuccino
Decrease classic syrup to (1 pump tall, 1.5 grande, 2 venti)
Add peppermint syrup (Tall 3 pumps, Grande 4 pumps, Venti 5 pumps)
Add vanilla bean powder (2 scoops tall, 3 grande, 4 venti)
Add protein powder for thickness (1 scoop tall, 1.5 grande, 2 venti)
Add 1 pump of mocha sauce (2 pumps for Grande and Venti) at the bottom of the cup and mocha drizzle on the inside of the cup
Top with whipped cream, mocha drizzle and sprinkle matcha powder on top

Thanks to Starbucks partner Keidra S. for sending in this delicious recipe and photo! If you have a secret recipe you'd like to share, send it to recipes [at] StarbucksSecretMenu.net and it could be featured on the site!