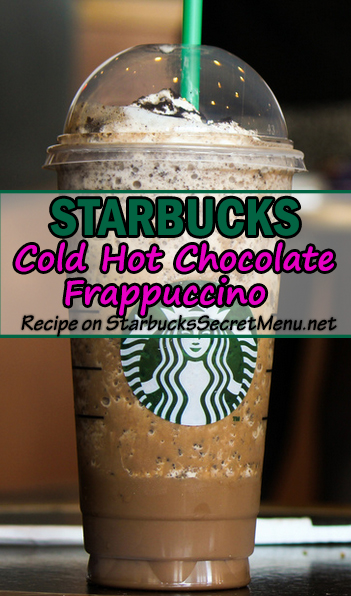 Cold Hot Chocolate Frappuccino

| Starbucks Secret Menu

Sometimes you have to give into that chocolate craving and this ultra chocolaty beverage will definitely hit the spot!

Just because it's getting chilly out doesn't mean you always want a hot beverage. If you're craving something cold and full of chocolaty goodness, you can enjoy a slushy version of this winter favorite!

Cold Hot Chocolate is one of our year round guilty pleasures. Enjoy a holiday version and try it with peppermint!
Here's the recipe:
Double Chocolaty Chip Crème Frappuccino
Add vanilla syrup (2 pumps tall, 3 grande, 4 venti)
Blend in whipped cream for extra creaminess
Top with whip and mocha drizzle
Optional: Add peppermint syrup for a Peppermint Cold Hot Chocolate
Thanks to Starbucks Barista Stephan Orosco for sending this creation in! If you have a secret recipe you'd like to share, send it to recipes [at] StarbucksSecretMenu.net and it could be featured on the site!