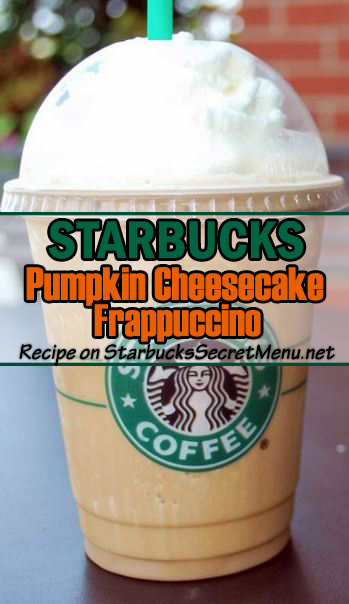 Pumpkin Cheesecake Frappuccino

| Starbucks Secret Menu

Unfortunately pumpkin spice season is coming to an end, but here's one last recipe for you to try out this season! Or you could always try a less frequented Starbucks location that may just have a few bottles of Pumpkin Spice sauce stored away!

This Pumpkin Cheesecake Frappuccino is rich and creamy as cheesecake should be. Go on and have your dessert in a cup. It's much less messy this way!
Here's the recipe:
Creme based Pumpkin Spice Frappuccino
Add cinnamon dolce syrup (1 pump tall, 2 grande, 3 venti)
Add vanilla bean power (1 scoop tall, 2 grande, 3 venti)
Add white mocha syrup (1 pump tall, 2 grande, 3 venti)
Thanks for Alex for sending this recipe in! If you have a secret recipe, share it with us at Recipes [at] StarbucksSecretMenu.net or StarbucksSecretMenu [at] gmail.com and it could be featured on the site! Please attach a photo if you have one 🙂