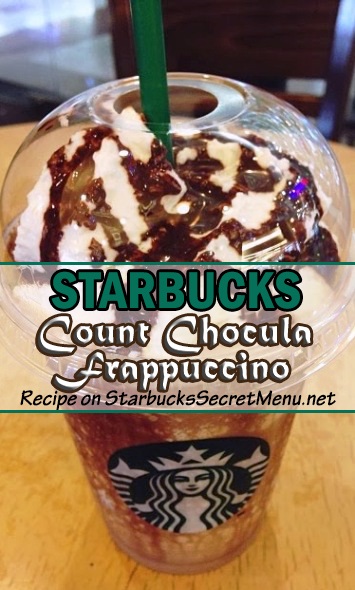 Count Chocula Frappuccino

| Starbucks Secret Menu
Like the Lucky Charms Frappuccino, the Count Chocula Frappuccino takes advantage of the summer ingredient: marshmallow syrup!
If you're not familiar with Count Chocula, it's a chocolate whole grain cereal with marshmallow bits similar to Lucky Charms but with a delicious chocolaty taste.
Marshmallows and chocolate were made for each other after all! So, if you're a fan of the two, you'll love this Frappuccino full of marshmallow and mocha flavors.
Here's the recipe: 
Whole milk to the first line
Add vanilla bean powder (2 scoops tall, 3 grande, 4 venti)
Add marshmallow syrup (1 pump tall, 1.5 grande, 2 venti)
Add mocha syrup (1 pump tall, 1.5 grande, 2 venti)
Top with whipped cream and optional mocha drizzle
Thanks for Patrick C. for sending in yet another awesome recipe! If you have a secret recipe you'd like to share, send it to recipes [at] StarbucksSecretMenu.net and it could be featured on the site! Attach a photo if you have one.