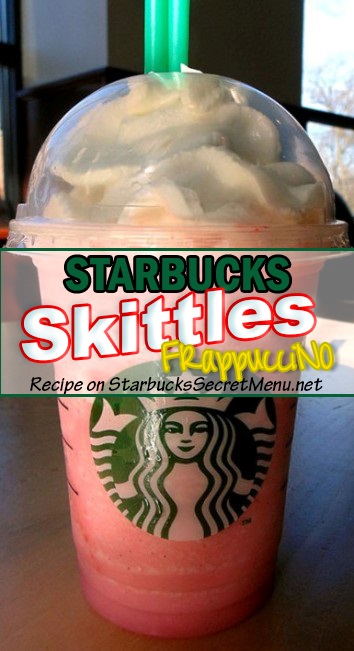 Skittles Frappuccino

| Starbucks Secret Menu

Skittles are one of the most popular and well marketed fruit flavored sweets. They're colorful, delicious and fun to eat! What's not to love!

The variety of flavors is awesome as well: tropical, wild berry and sour to name a few. The chewy candy comes in so many different types and colors that you really are tasting the rainbow.

And while there's no rainbow in our Skittles Frappuccino, it's fun and fruity just like its candy counterpart!
Here's the recipe:
Strawberries and Crème Frappuccino
No classic syrup
Add Vanilla Syrup (2 pumps tall, 3 pumps grande, 4 pumps venti)
Add Raspberry Syrup (½ pump tall, 1 pump grande, 1.5 pumps venti)
Thanks to everyone who sent this recipe in! If you have a secret recipe you'd like to share, send it to recipes@StarbucksSecretMenu.net and it could be featured on the site! Attach a photo if you have one.