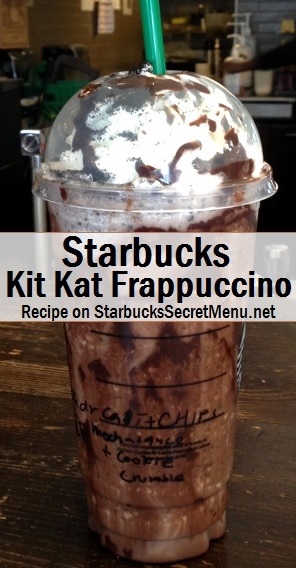 Kit Kat Frappuccino

| Starbucks Secret Menu

Kit Kat bars are iconic for their easy to eat and easy to share nature. The super catchy slogans don't hurt either.

Full of chocolate flavor and crunch, the Kit Kat Frappuccino is a delicious chocolaty treat, much like it's popular chocolate bar counterpart. And yes, it tastes as good as it looks!
Here's the recipe:
Vanilla Bean Frappuccino
Mocha Drizzle on the inside of the cup
Java chips blended in
Top with whipped cream, mocha sauce and cookie crumbles
Huge thanks go out to Barista Graeme P. and Audrey W. for sending in this awesome recipe! If you have a favorite recipe you'd like to share, send it to starbuckssecretmenu [at] gmail.com and it could be featured on the site!