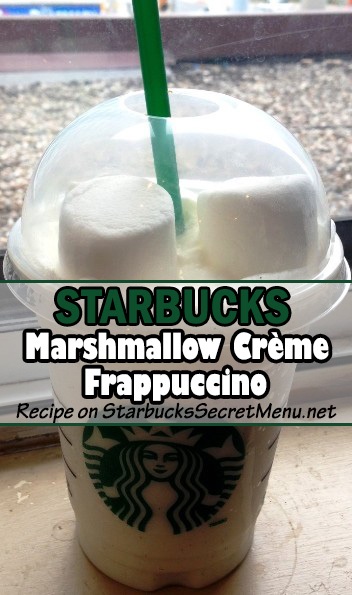 Marshmallow Crème Frappuccino

| Starbucks Secret Menu

Although marshmallows are often thought of as a class of their own, marshmallows are actually a type of candy.

Loved for their gooey, bouncy texture, marshmallows are most commonly used in baking or as an add-on to desserts and beverages. Rice Krispy Treats, s'mores and hot chocolate with marshmallows are just a few of our favorites!

But while this fluffy treat tastes great as an ingredient, we've been known to sneak a few and eat them all on their own. It's just so hard to resist the melt in your mouth sweetness. And you won't have to with this Marshmallow Crème Frappuccino!

Marshmallows not included but you could always bring your own and add them on top of your whipped cream for a treat and a very photo worthy Frappuccino.
Here's the recipe:
Vanilla Bean Frappuccino
Add white mocha syrup (3 pumps tall, 3.5 grande, 4 venti)
Add vanilla syrup (1 pump for a tall, 1.5 for a grande, 2 for a venti)

Thanks to Barista Graeme P. of LA for this sweet recipe and photo! If you have a secret recipe you'd like to see on the website, send it to recipes [at] StarbucksSecretMenu.net and it could be featured!