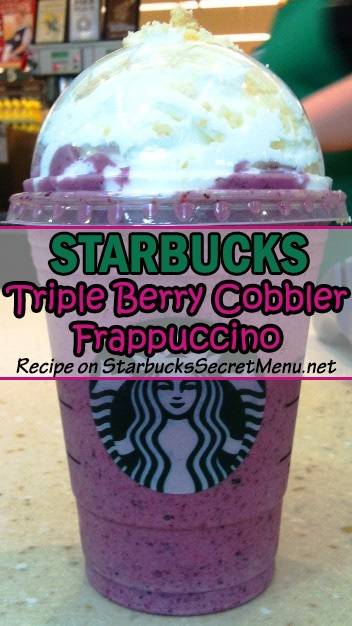 Triple Berry Cobbler Frappuccino

| Starbucks Secret Menu

What's better than raspberry cobbler, blackberry cobbler and blueberry cobbler? A triple berry cobbler with all three of course!

Mixing and matching flavors is one of our favorite things to do here at Starbucks Secret Menu and all the flavors in this Frappuccino go together beautifully.

The Triple Berry Cobbler Frappuccino is extra thick because of all the added berries and has an almost smoothie like consistency. It's perfect for any berry lover! We love the rich purple color too, a wonderful way to brighten up your day!
Here's the recipe:
Vanilla Bean Frappuccino
Add white mocha syrup (1 pump tall, 2 grande, 3 venti)
Add raspberry syrup (1 pump tall, 2 grande and venti)
Add freeze dried blackberries (1 scoop tall, 2 grande, 3 venti)
Add blueberries (1 packet tall, 2 grande, 2 venti)
Double blend and top with whipped cream

** Keep in mind the additional costs of all the add-ons with this particular beverage.

Big thanks to Nichole D. for sending this beautiful recipe and photo! If you have a secret menu item you'd like to share, send it to recipes [at] StarbucksSecretMenu.net and it could be featured on the site. Attach a photo if you have one!