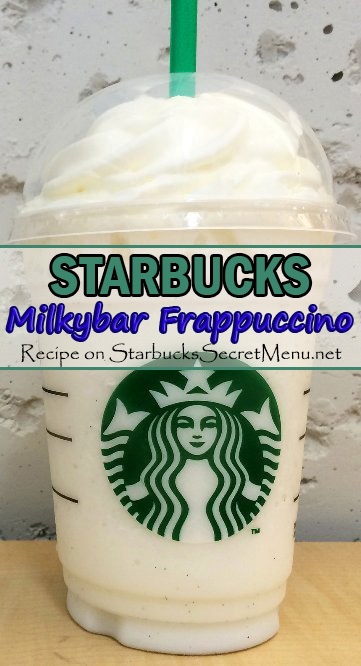 Milkybar Frappuccino

| Starbucks Secret Menu

The Milkybar might sound foreign to some of you, because it is!

It's a white chocolate candy bar made by Nestlé but sold only in the United Kingdom, New Zealand, Ireland, Australia and a few other lucky places.

While you won't find this particular treat in the US or Canada, its taste is definitely universal. Delicious rich white chocolate? Yes, please! We're definitely picking up a few bars the next time we visit one of these beautiful places, but until then we have the Milkybar Frappuccino!
Here's the recipe:
Vanilla Bean Frappuccino
Add white mocha syrup (2 pumps tall, 3 grande, 4 venti)
Add extra ice (1.5 x original amount)
Extra pump of crème base and double blend
Top with one more pump of white mocha syrup

We love getting Starbucks recipes from all around the world, and this one comes to us from lkwright and his colleagues from Peterborough Starbucks in England! Big thanks to you for sharing this UK delight with us.