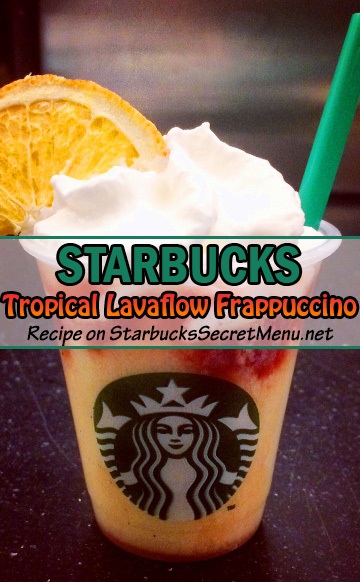 Tropical Lavaflow Frappuccino

| Starbucks Secret Menu

For those of us not lucky enough to have sunshine and shorts weather year round, it's finally starting to warm up for spring! What better way to celebrate warm weather than with a delicious, tropical beverage!

This icy delight is worthy of any beach trip but even if you can't make it to the beach, you can enjoy the Tropical Lavaflow Frappuccino from the classroom, the office or from home. It'll help with the daydreaming.
Here's the recipe:
Vanilla Bean Frappuccino
Made with coconut milk to the bottom line
Orange mango juice to the second line
Top with strawberry puree and whipped cream
Thanks to Starbucks partner Olivia B. of Virginia Beach for yet another amazing secret recipe! If you have a secret recipe you'd like to share, send it to recipes [at] StarbucksSecretMenu.net and it could be featured on the site!