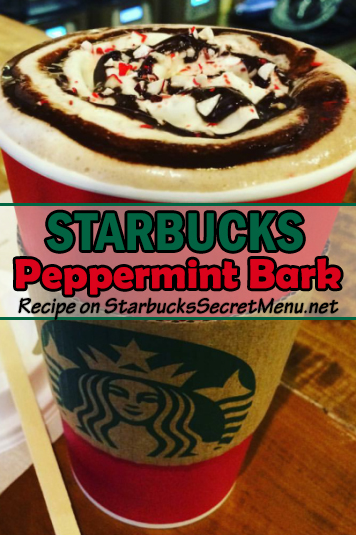 Peppermint Bark (Frappuccino)

| Starbucks Secret Menu

Peppermint Bark is one of those holiday favorites we love for many reasons. It's actually really easy to make yourself, it tastes fantastic and it gets us all excited that the holidays are around the corner!

The combination of peppermint and chocolate make a great pair throughout the year, but around the holidays they just seem to naturally go together in every shape and form.

Enjoy our Starbucks Peppermint Bark as a hot beverage, an iced beverage, a Frappuccino and even hot chocolate. Bonus: it's super simple to order!
Here's the recipe:
Peppermint Mocha (Frappuccino)
Made with half mocha sauce/half white chocolate sauce
Hot Chocolate recipe

:
Peppermint Hot Chocolate
Made with half mocha sauce/half white chocolate sauce
Thanks to everyone who suggested a Peppermint Bark holiday beverage! If you have a secret recipe you'd like to share, send it to recipes [at] StarbucksSecretMenu.net and it could be featured on the site! Please attach a photo if you have one