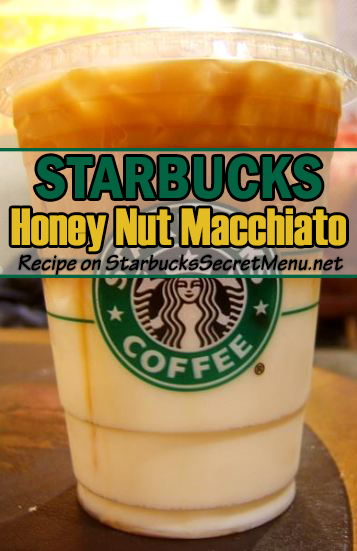 Honey Nut Macchiato

| Starbucks Secret Menu

Honey glazed nuts, or any kind of roasted or glazed nuts are such a beloved holiday treat. We might be guilty of having a few too many around this time of year. Thank goodness for bulky holiday sweaters!

Here's a simple holiday recipe that introduces a sweet and nutty taste. Plus, we love using honey as a drizzle substitute! It adds a new depth of taste and texture that is quite enjoyable and compliments the chestnut flavors perfectly.

As usual with our Macchiato recipes, enjoy this Honey Nut Macchiato cold or hot!
Here's the recipe:
Caramel Macchiato
Sub vanilla syrup for Chestnut Praline Syrup
Top with a packet or two of honey depending on size
Thanks to Starbucks Barista Aspen R. for sharing this holiday recipe with us! If you have a secret recipe, share it with us at Recipes [at] StarbucksSecretMenu.net or StarbucksSecretMenu [at] gmail.com and it could be featured on the site! Please attach a photo if you have one