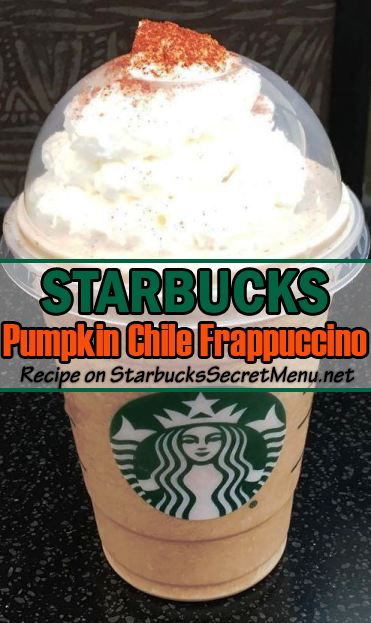 Pumpkin Chile Frappuccino

| Starbucks Secret Menu

This fall, Starbucks spiced up their menu with the Chile Mocha. It features spice from a touch of cayenne pepper and the ancho, a heart-shaped pepper with mild heat and a sweet fruity flavor.

If you haven't tried the chocolate and chile combo before, you'll be pleasantly surprised to know that the two pair together unexpectedly well!

And of course, fall marks the return of the beloved Pumpkin Spice Latte, a classic that we look forward to every year. We love mixing old and new so try the Pumpkin Chile Frappuccino and get the best of both fall drinks with this extra spice infused combo.
Here's the recipe:
Pumpkin Spice Frappuccino
Add chili mocha powder (2 for tall, 3 for grande, 4 for Venti)
Add white mocha (1/2 for tall, 1 for grande, 1.5 for Venti)
Top with whip and add chili + pumpkin topping
Thanks to Shift Supervisor Dan of Starbucks in Wynnwood, PA for sharing this delicious recipe! If you have a secret recipe you'd like to see featured, send it in at Starbucks Secret Menu [at] gmail.com. Attach a photo if you have one 🙂