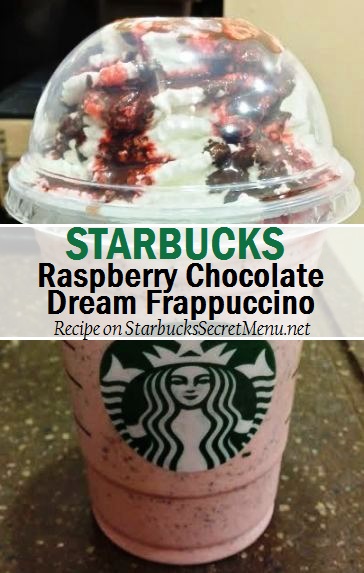 Raspberry Chocolate Dream Frappuccino

| Starbucks Secret Menu

Raspberry and chocolate are one of those combinations that seem like they were meant to be. The tartness of the raspberry compliments the sweetness in chocolate so wonderfully, you'd mistake it for a party in your mouth.

There's no mistaking this Raspberry Chocolate Dream Frappuccino though. It's a tasty, dessert like treat that'll take care of that sweet tooth!
Here's the recipe:
Vanilla Bean Frappuccino
Add rasbperry syrup (2 pumps tall, 3 grande, 4 venti)
Add white mocha sauce (2 pumps tall, 3 grande, 4 venti)
Add cinnamon dolce syrup (1 pump tall, 1.5 grande, 2 venti)
Add java chips
Top with mocha drizzle and half a pump of raspberry

As is the case with most of our secret beverages, this recipe will also work well with half the syrup additions if you prefer your beverage less sweet.
Thank you to Starbucks Partner Alex M. of Bakersfield,  CA for creating and sharing this awesome Frappuccino with us! If you have a secret beverage you'd like to share, send it to starbuckssecretmenu [at] gmail.com and it could be featured on the site!