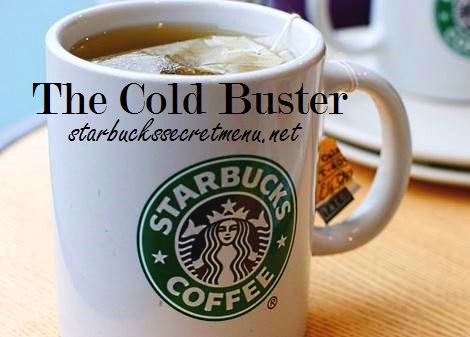 Starbucks Secret Menu:
The Coldbuster
It's flu season, and I think it's safe to say that we all hate the sniffling, sneezing, and congestion that comes with it. The Coldbuster, also known as "The Medicine Ball" will sooth sore throats and sinuses should the unfortunate come your way.
It incorporates a handful of cold remedies, all put together in a steaming hot cup of tea. So if you're feeling under the weather, give this remedy a try.
**With the change to Teavana Tea instead of the old Tazo teas, we recommend subbing the Refresh and Calm Tea Bags with Peach Tranquility & Jade Citrus Mint.
Here's the recipe:
Venti Cup w/ a bag of Jade Citrus Mint Tea and a bag of Peach Tranquility Tea
Add half hot water and half steamed lemonade
Add a little honey for its anti-microbial effects
Optional: Add a pump of peppermint
Barista and recipe creator, Matthew L. recommends sipping the drink while it is as hot as you can handle, as it will be the most soothing when hot. Make sure not to burn yourself though, drink at the temperature you feel comfortable with.
Thanks to Matthew L. for sharing this secret recipe on his blog and with us! If you have a secret recipe you'd like to see on the site, send it in to starbuckssecretmenu [at] gmail.com and we'll add it to the list!
Also known as a "Coldbuster," or what I like to call it, a "Calm Balm." This drink will sooth sore throats and sinuses. It is a venti cup with a bag of Refresh (mint) and a bag of Calm (chamomile) with about half hot water and half steamed lemonade. (I don't recommend full lemonade. The water helps the tea steep better, tastes better, is hotter, and healthier.) Add a little honey for its anti-microbial effects. If you really want to clear the sinuses too, add a pump of peppermint. You'll want to sip this drink as hot as possible and drink the whole thing. – See more at: http://www.mybrainblinks.com/2013/10/19/functional-secret-menu-drinks-starbucks/#sthash.CAKtMMXt.dpuf