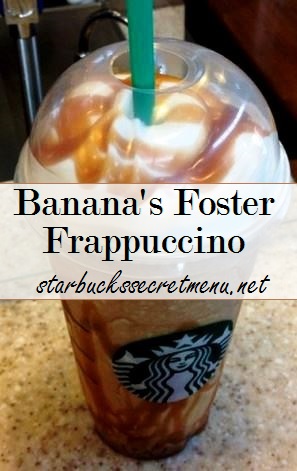 Starbucks Secret Menu:
Bananas Foster Frappuccino
Bananas Foster is a dessert favorite, and while this Frappuccino doesn't have any liqueur like the traditional dessert, it's certainly tasty.
Sweet banana, caramel and vanilla flavours, how could you go wrong?
This recipe is recommended in a grande or venti size as it includes a whole banana.
Here's the recipe:
Vanilla Bean Frappuccino
Add a banana
Add caramel syrup (2 pumps for grande, 3 for venti)
Line the cup with caramel drizzle
Top with whip and caramel drizzle
Thanks to Barista, Sydney L and Jo N. for sending in this recipe! If you have a recipe you'd like to share, send it to starbuckssecretmenu [at] gmail.com and we'll add it to the site!