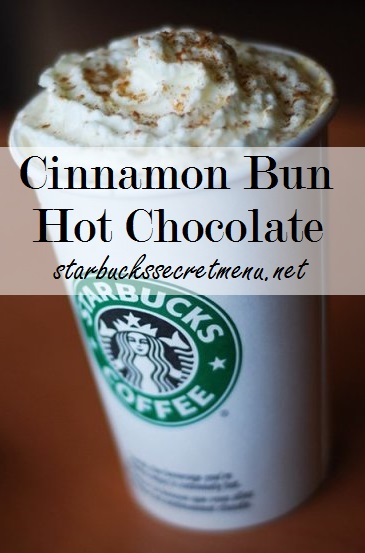 Starbucks Secret Menu:
Cinnamon Bun Hot Chocolate
If you don't have the time to sit down to a steaming hot cinnamon bun or just want to skip the sticky fingers, here's an alternative!
The Cinnamon Bun Hot Chocolate is made like a hot chocolate, but substitutes the 5 pumps of mocha syrup with several other flavors to create a cinnamon bun taste a like treat.
Here's the recipe (tall or grande):
1 pump mocha syrup
1 pump white mocha syrup
1 pump cinnamon dolce syrup
1 pump vanilla syrup
(For a venti, add 1 pump of caramel)
Milk = Breve
Top with whipped cream and cinnamon dolce topping
Thanks to Barista William R. of Purcellville, Virginia for sending in this awesome creation of a beverage. If you have a secret recipe you'd like to share, send it to starbuckssecretmenu [at] gmail.com and it could be featured on the website!