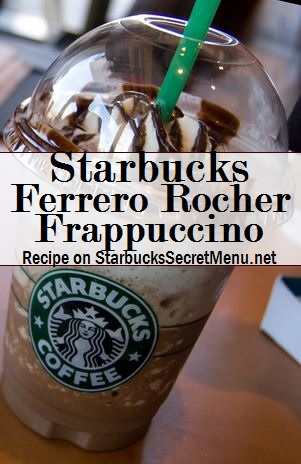 Starbucks Secret Menu:
Ferrero Rocher Frappuccino
When you want to indulge in holiday chocolate, Ferrero Rocher is definitely a top choice. And one that we happily consume in handfuls during the holidays when gift boxes are all too easy to find.
The chocolate, the nuts, it's all delicious and has been recreated into an equally delicious Frappuccino! No nuts mind you, but the hazelnut syrup is a wonderful substitute.
Here's the recipe:
Double Chocolate Chip Frappuccino or Java Chip Frappuccino if preferred
Add Mocha Syrup (2 pumps for a tall, 3 for a grande, 3.5 for a venti)
Add Hazelnut Syrup ( 1 pump for a tall, 1.5 for a grande, 2 for a venti)
Add Hazelnut drizzle
Top with whipped cream
For extra nutty flavor
For extra chocolate flavor
 Thanks to Laura C. for sending in this awesome recipe! If you have a secret recipe you'd like to share, send it in to starbuckssecretmenu@gmail.com and we'll add it to the site.