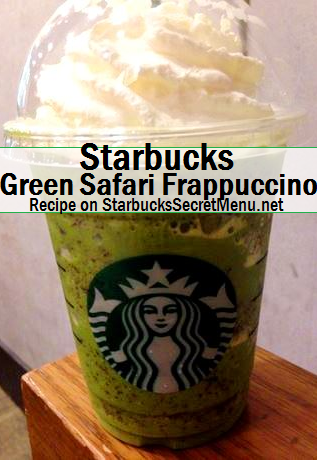 Starbucks Secret Menu:
Green Safari Frappuccino
Here's another everything kind of Frappuccino! It was given its name because it resembles a safari all blended up.
Upon first sip of this Frappuccino, you get a load of chocolate and caramel sweetness, then bitterness from the hazelnut as the java chips come in, then onto refreshing green tea to cleanse the sweetness and leave you with a minty flavor.
Here's the recipe:
Green Tea Frappuccino
Add Hazelnut syrup (1.5 tall, 3 grande, 4 venti )
Add Caramel syrup (1 tall, 1.5 grande, 2 venti)
Add Java chips
optional : Top with whip cream and caramel drizzle
Thanks to the self professed green tea addict, Nate B for sending this great recipe in!  It sounds absolutely delicious!