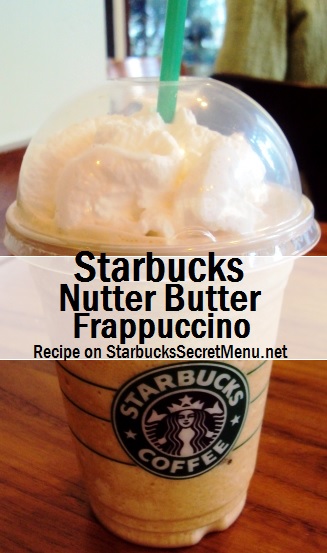 Starbucks Secret Menu:
Nutter Butter Frappuccino
If you've ever had a Nutter Butter, you know how fun and delicious they are!
This Frappuccino will hit the spot if you're having a Nutter Butter craving, or just want to satisfy your sweet tooth!
We recommend getting this Frappuccino in a grande or venti size since the recipe involves a whole banana!
Here's the recipe:
Hazelnut Frappucino
Add toffee nut syrup (2 pumps grande, 3 venti)
Add cinnamon dolce syrup (2 pumps grande, 3 venti)
Blend in a whole banana
Top with whipped cream

Thanks to Alyssa G. for sending this recipe in! If you have a recipe you'd like to share, send it into starbuckssecretmenu [at] gmail.com and we'll add it to the list!