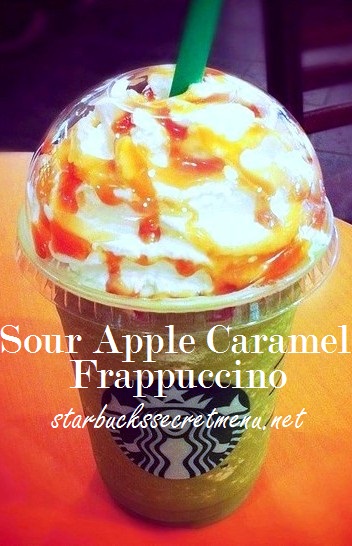 Starbucks Secret Menu:
Sour Apple Caramel Frappuccino
Green apples and caramel go together so well that sometimes it's hard to imagine one without the other. At least if you're a caramel apple fanatic like myself.
While we have a Caramel Apple Frappuccino recipe already, this one is lighter and easier to order!
Here's the recipe:
Start with apple juice to the bottom line of the cup
Add Matcha powder  (½ scoop tall, 1 scoop grande, 1.5 scoop venti)
Add Classic Syrup (2 pumps tall, 3 grande, 4 venti)
Add ice and blend
Top with a little whip and a pump of caramel drizzle
Thanks to Barista Javarous W. for sending this recipe in! If you have a secret recipe you'd like to share, send it to starbuckssecretmenu [at] gmail.com and it could be featured on the website!