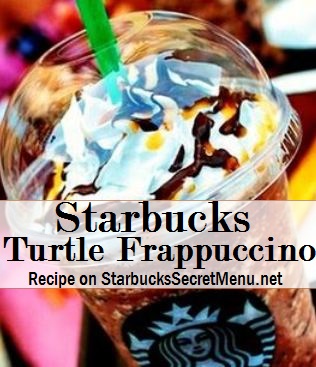 Starbucks Secret Menu:
Turtles Frappuccino
Turtles are often associated with that magical time of year when streets are bustling and bells are ringing. They make a great gift, and a delicious guilty pleasure but you don't have to wait until Christmas to have this chocolate caramel treat! You can try it in Frappuccino form anytime of the year!
Here's the recipe:
Java Chip Frappuccino
Add toffee nut syrup (1 pump for a tall, 2 for grande, 3 for venti)
Top with mocha and caramel drizzle

Thanks to Barista Chelsey G. for sending in this great recipe! If you have a secret beverage you'd like to share, send it in  to starbuckssecretmenu [at] gmail.com. Attach a photo if you have one!