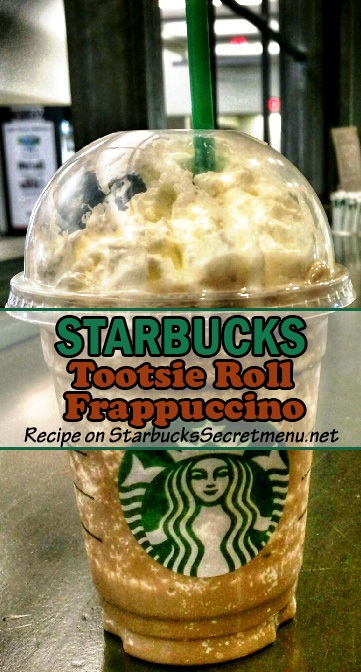 Tootsie Roll Frappuccino

| Starbucks Secret Menu

Oh the Tootsie Roll. It's neither taffy nor caramel but an entire class of its own that comes from its delicious, chocolaty fun to eat nature and equally fun name.

Tootsie Rolls bring back such fond memories of trick or treating. We just love how many sizes and variations it comes in! Tootsie Roll Pop anyone? Yum!

It's no surprise we love this Frappuccino version that mimics one of our favorite treats. Give it a try!
Here's the recipe:
Fill Valencia Orange Refresher to the first indent on the cup
Milk to the first line
Add mocha syrup (2 pumps tall, 3 grande, 4 venti)
Add vanilla syrup ( 1 pump tall, 2 grande and venti)
Add crème base ( 2 pumps tall, 3 grande, 4 venti)

Thanks to Brittany A. of Florence, KY for this awesome recipe and photo! If you have a secret recipe you'd like to share, send it in to Recipes [at] StarbucksSecretMenu.net and it could be featured on the site!