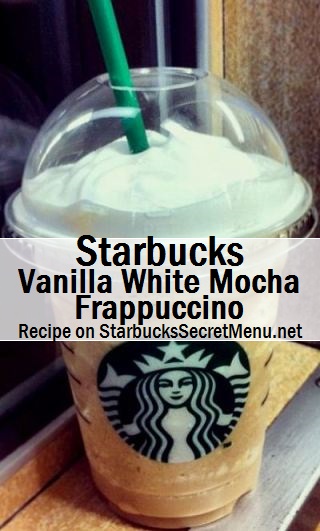 Vanilla White Mocha Frappuccino

| Starbucks Secret Menu

If you're familiar with our recipes, you'll notice that some require quite a few ingredients or additions. The others like this Vanilla White Mocha Frappuccino, are sweet and simple. After all, sometimes less is more.

There's just one substitution, but it creates a whole new flavor. A delicious flavor since the syrups compliment each other so well!

As with many our recipes, this one can be enjoyed in both hot, iced or Frappuccino form.
Here's the recipe (Frappuccino):
White Mocha Frappuccino
Half white mocha syrup/half vanilla syrup (1 pump each for tall, 1.5 grande, 2 venti)
Double blend
Recipe for hot and iced version:
White Mocha
Half white mocha syrup/half vanilla syrup (1.5 pump each for tall, 2 grande, 2.5 venti, 3 iced venti)
Ask for the beverage to be stirred
With the ratios above you're substituting half the syrup for another type so there should be no additional costs with this recipe.
If you prefer your beverage on the sweeter side though, feel free to add additional pumps of syrup in equal ratios. (ie. an additional ½ pump of white mocha, and ½ pump of vanilla)
Huge thanks go out to Barista Lauren T. for this detailed recipe and useful tips! As usual, always be kind and patient with your Barista, especially when requesting a customized beverage. If you have a favorite recipe you'd like to share, feel free to send it to starbuckssecretmenu [at] gmail.com and it could be featured on the site!