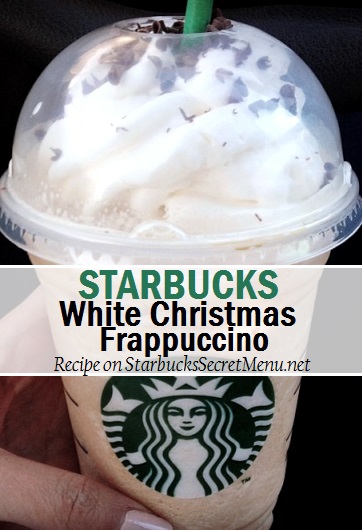 White Christmas Frappuccino

| Starbucks Secret Menu

Even if it doesn't snow on Christmas, you can still enjoy a White Christmas with this festive Frappuccino!

It's a delicious way to celebrate the holidays, and it's available all year round like many of our secret holiday recipes!

A scrumptious blend of flavors, the vanilla, white chocolate mocha and peppermint compliment each other perfectly.
Here's the recipe:
Vanilla Bean Frappuccino
Add white mocha syrup (1 pump tall, 2 grande, 3 venti)
Add peppermint syrup (1 pump tall, 2 grande, 3 venti)
Top with whipped cream and peppermint mocha curls

If you prefer your beverage less sweet, simply add half the syrup suggested. Enjoy!
Feel like having a hot beverage instead? Try the recipe with a Vanilla steamer instead of the Vanilla Bean Frappuccino!
Thanks to Barista Aimee R. for sharing her secrets with us! If you have a secret beverage you'd like to share, send it to starbuckssecretmenu [at] gmail.com and it could be featured on the site!