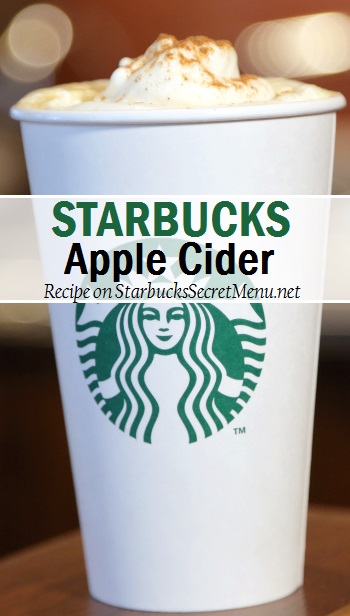 Apple Cider

| Starbucks Secret Menu

Although Starbucks doesn't carry actual apple cider, this version tastes rather close to a traditional cider, and comes highly recommended. Plus it's extremely easy to order, and has less sugar and calories than a Caramel Apple Spice!

It's a tasty holiday beverage, but can be ordered year round if you find yourself a fan.
Here's the recipe:
Steamed apple juice
Add Oprah chai syrup (1 pump tall, 1.5 grande, 2 venti)

Feel free to add extra chai syrup if you like your Apple Cider particularly spicy!
Thanks to Jacob L. for suggesting this recipe! If you have a secret recipe you'd like to share, send it to starbuckssecretmenu [at] gmail.com and it could be featured on the site!