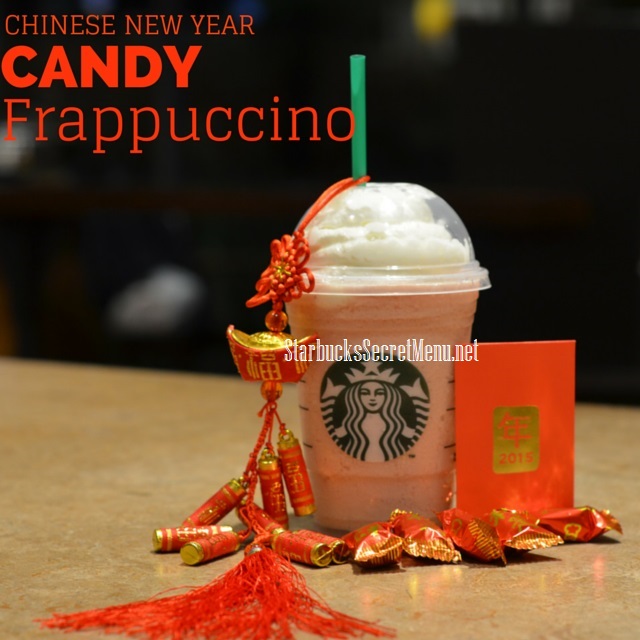 Chinese New Year Candy Frappuccino

| Starbucks Secret Menu

Whether or not you celebrate Chinese New Year, Lunar New Year or any variation of it, you probably recognize these holiday candies wrapped in red and gold.

They're given out and eaten as a sign of good luck, and aptly named "lucky candy" or "good luck candy". They're strawberry flavored, but if you've had them before you know they're not a traditional strawberry candy. The exact flavor is hard to describe if you've never had one, but the taste is pleasant.

Starbucks has always embraced holidays and Chinese New Year is no exception. Special Year of the Sheep merchandise is offered this year at Starbucks locations all around the world including special edition gift cards, mugs, pastries and even beverages like the Blossoming Peach Tea in Canada.

Even if your local Starbucks doesn't have any special Chinese New Year holiday items, you can still join in the fun and try a Chinese New Year Candy Frappuccino!
Here's the recipe:
Strawberries and Creme Frappuccino
Add classic syrup (½ pump tall, 1 pump grande, 1 ½ pumps venti)
Add peppermint syrup (½ pump tall, 1 pump grande, 1 ½ pumps venti)
Special thanks to Starbucks Barista Jason L. for the awesome recipe and photo! You rock Jason! If you have a secret Starbucks recipe to share, send it in to StarbucksSecretMenu [at] gmail.com and it could be featured on the site!