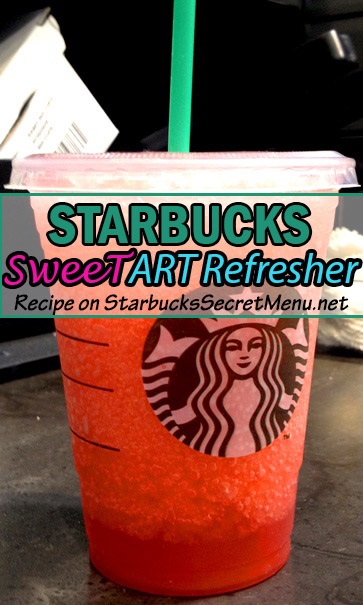 The Sweetart Refresher

| Starbucks Secret Menu

Candy fans, this one is for you! SweeTarts are loved their sweet and sour taste, multi-faceted colors and their fun easy to eat nature.

This SweetTart Refresher mimics the flavor of the candy favorite, making it the perfect option to satisfy your sweet tooth.

Be warned though, it's made to be very sweet and tart so if you prefer your drinks less sweet try it with half the amount of syrup and extra ice.
Here's the recipe:
Orange valencia to the first line
Lemonade to the second line
Add raspberry syrup (1 pump tall & grande, 2 pumps venti & trenta)
Add normal amounts of classic syrup according to size

Optional:

Blend into slushie form

Big thanks to Starbucks Barista Paige C. for sending in this fun recipe and photo! If you have a secret Starbucks recipe you'd like to share, send it to starbuckssecretmenu [at] gmail.com and it could be featured on the site!