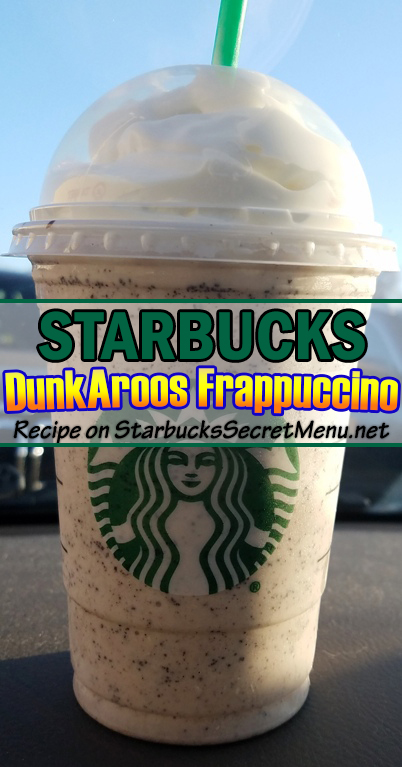 DunkAroos Frappuccino

| Starbucks Secret Menu

If Dunkaroos were a favorite elementary or middle school snack of yours then this Frappuccino will bring back memories of delicious icing covered cookies and feelings of nostalgia.

Even more so because the dipping snack was discontinued in the US in 2012 and only available to those able to venture north of the border to Canada, where Dunkaroos are still sold.

If you'd like to venture down memory lane without having to visit another country, just step into your local Starbucks and give the Dunkaroos Frappuccino a try! This recipe is modelled after the Vanilla Cookies with vanilla frosting and rainbow sprinkles version.
Here's the recipe:
Start with a crème based Frappuccino
Heavy cream or whole milk recommended for consistency
Add vanilla bean powder (1 scoop tall, 2 grande, 3 venti)
Add cinnamon dolce syrup (1 pump tall, 2 grande, 3 venti)
Add white mocha syrup (1 pump tall, 2 grande, 3 venti)
Top with whip and cinnamon dolce topping
Optional: Add java chips (1 scoop tall, 2 grande, 3 venti)
Thanks to Brittany M for sending this recipe in! If you have a secret Starbucks recipe you'd like to share, send it to recipes [at] StarbucksSecretMenu.net and it could be featured on the site!