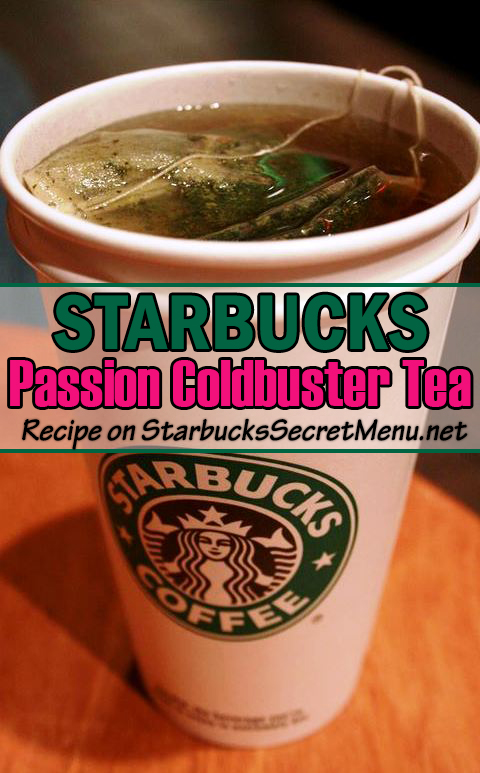 Passion Coldbuster Tea

| Starbucks Secret Menu

Its winter! While it's a wonderful time for holiday cheer, unfortunately it's also that time of year when flu and cold season are back in full force.

If you've been feeling under the weather lately you know how desperate you can be for just a few hours of relief! After all, holiday parties are no fun when you have a stuffy nose and are relegated to spending your time in the corner coughing into your sleeve.

Good news for fans of our extremely popular Coldbuster Tea, we now have the Passion Coldbuster Tea for your drinking pleasure! Just like the original, the passion version soothes sore throats and helps clear up those sinuses.
Here's the recipe:
Venti tea with one bag of Passion Tango tea and one bag of Emperor's Cloud and Mist
Half steamed lemonade and half boiling water
Add a bit of honey
Wondering how the Passion Coldbuster Tea can make you feel better when you're sick?
It includes lemon which is high in vitamin C and helps reduce inflammation and swelling in your throat while neutralizing your body of free radicals. The added honey has anti-microbial effects and is an effective and natural cough suppressant. Green tea is full of antioxidants to help boost your immune system and passion tea is known for relieving stress and insomnia.
Thanks to Barista Marissa P. Of Harris Teeter, NC for sending us this variation of the Coldbuster! If you have a secret Starbucks recipe you'd like to share, send it to us at StarbucksSecretMenu [at] gmail.com and it could be featured on the site!