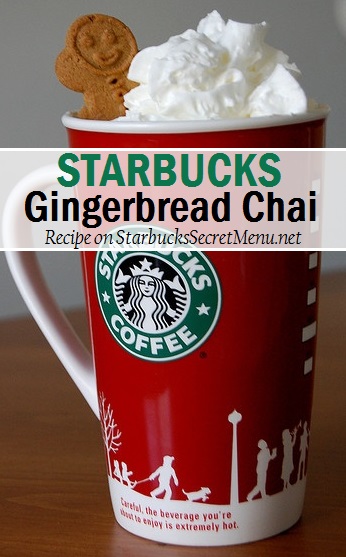 Gingerbread Chai Latte

| Starbucks Secret Menu

Here's a delicious twist to the regular Chai Tea Latte! Adding gingerbread to the mix really elevates this already tasty beverage.

And who can say no to delicious gingerbread? The bit of spice from both flavors go together perfectly, so if you're a fan of the Chai Tea Latte and Gingerbread Latte, you'll love this one! Take advantage of the holiday syrup and give this delight a try!
How to order:
Chai Tea Latte
Add Gingerbread Syrup (1 pump tall, 2 grande, 3 venti)
Top with whipped cream and molasses drizzle

Thanks to Cassie P. for sending in this recipe suggestion! If you have a secret beverage you'd like to share, send it to starbuckssecretmenu [at] gmail.com or post on any of our social media outlets!