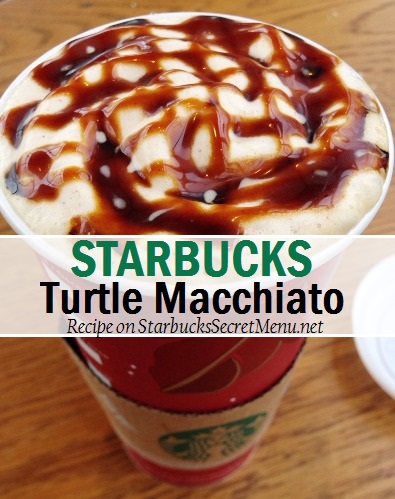 Turtle Macchiato

| Starbucks Secret Menu

Chocolate Turtles are loved for their nutty, caramel chewiness. Best enjoyed slowly, this chocolate treat is often a reminder of the holidays as gift packages and different varieties start pouring into stores.

If you like Turtles, you'll enjoy this Macchiato with a perfect mix of mocha and caramel flavors. Can't forget the coffee of course! Enjoy hot or iced.
How to order:
Mocha syrup (2 pumps tall, 3 grande, 4 venti)
Caramel syrup (2 pumps tall, 3 grande, 4 venti)
Add choice of milk
Add espresso shots
Criss-cross over the foam or whip with mocha and caramel syrup

Thanks to Jessica B. for sending this recipe idea in! If you have a secret Starbucks recipe you'd like to share send it to starbuckssecretmenu [at] gmail.com or post on any of our social media outlets!