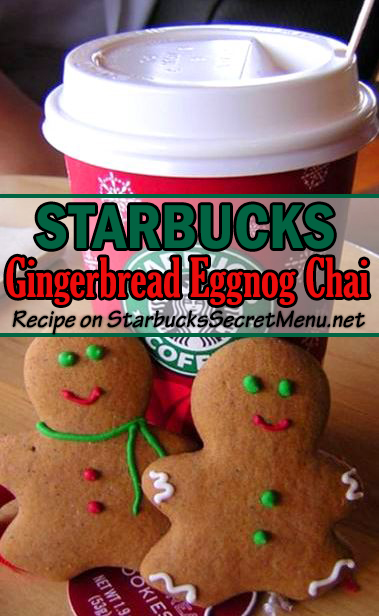 Gingerbread Eggnog Chai

| Starbucks secret Menu

Starbucks Holiday drinks are such a treat. Not only because they're only available once a year but because they go together wonderfully if you like to mix and match!

Gingerbread, eggnog and chai are all spice based which might explain why the three make a fantastic combination. If you want to taste the holidays in a cup, this is it!

Plus, putting together three of our favorite beverages, the Gingerbread Latte, Chai Latte and Eggnog Latte just seemed like a great idea! Three delicious drinks into one makes for an amazing mega holiday drink!

The Gingerbread Eggnog Chai can be enjoyed hot, cold or in Frappuccino form.
Here's the recipe:
Chai Latte or Frappuccino
Made with eggnog instead of milk
Add gingerbread syrup (1 pump tall, 2 grande, 3 venti)
Top with whipped cream and graham topping
Thanks to Hannah L. for sharing her best holiday secret with us! If you have a secret recipe you'd like to share, send it in to recipes [at] StarbucksSecretMenu.net and it could be featured on the site!