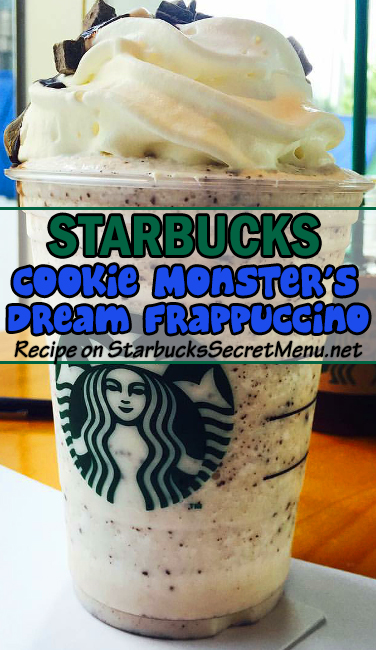 Cookie Monster's Dream Frappuccino

| Starbucks Secret Menu

Just like Cookie Monster, we love cookies of all shapes and flavors! This cookie recipe in particular is deliciously sweet, chocolaty and has a nice crunch.

Its flavor mimics a Cookies and Cream Frappuccino which happens to be one of our, and Cookie Monster's favorites! Tastes like a dream and looks amazing to boot.

If Starbucks ever brings back the Mocha Cookie Crumble Frappuccino, this recipe will be even more chocolaty delicious with the addition of cookie crumbs! We'll keep our fingers crossed.
Here's the recipe:
Vanilla bean Frappuccino
Add white mocha sauce (2 pumps tall, 3 grande, 4 venti)
Java chips blended in
Top with whipped cream and mocha sauce
Thanks to Barista Sam of NYC for creating this recipe and thanks to Laurie S. for sharing it with us! If you have a secret recipe you'd like to share, send it in to recipes [at] StarbucksSecretMenu.net and it could be featured on the site!