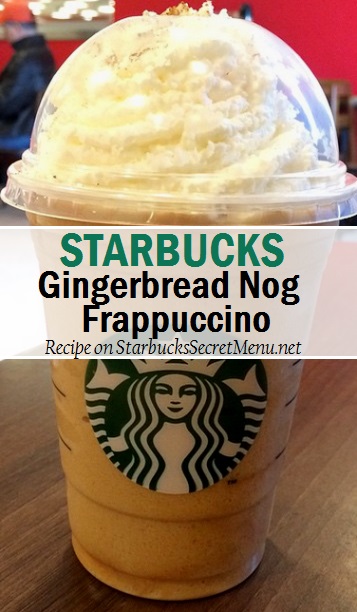 Gingerbread Nog Frappuccino

| Starbucks Secret Menu
After much support for the Eggnog Frappuccino, it has come back as a holiday offering this year. Yay for all the eggnog lovers out there!
Spice it up with some gingerbread flavor and you've got yourself a true holiday beverage. The Gingerbread Nog Frappuccino is rich, creamy and most importantly, it's delicious!
Don't worry about eggnog overload either. Around the holidays, there's no such thing!
How to order:
Eggnog Frappuccino without coffee
Made with eggnog instead of milk
Add gingerbread syrup (1 pump tall, 2 grande, 3 venti)
Thanks to Tiffany W. for sending this recipe in! If you have a secret recipe you'd like to share, send it to starbuckssecretmenu [at] gmail.com or post on any of our social media outlets!