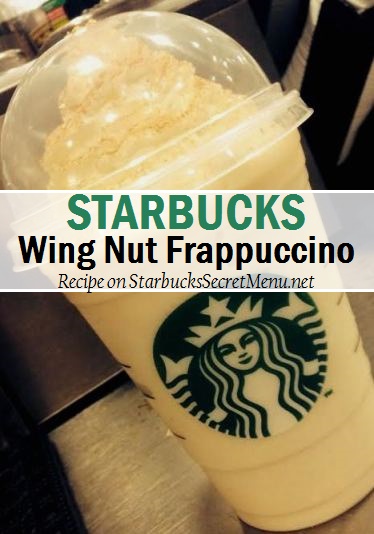 Wing Nut Frappuccino

| Starbucks Secret Menu

Like many great things, this Frappuccino was created on a whim, by random experiment and has become a hit since!

It's sweet, a little salty and has a hint of peppermint and nut flavors. The combination might sound a little odd, but it's definitely tasty!

This recipe has more ingredients and instructions than most so be sure to factor in extra time for your Barista to get it all down. It'll be easiest to show this recipe directly or write it down for them. Be patient as always and try to reserve more complicated beverages for less busy times of the day.
How to order: (for a grande)
Creme base Frappuccino (also goes well with coffee base)
Add 2 pumps of peppermint syrup
Add 2 pumps of toffee nut syrup
Add 2 pumps of cinnamon dolce syrup
1/2 sample cup of caramel sauce
3 shakes of sea salt topping (easy on the shakes so it doesn't get too salty)
Blend with a little extra ice
Top with whipped cream and cinnamon dolce sprinkles

Thanks to Starbucks Barista Wing H. of Garden city, Kansas for creating this unique beverage, and fellow barista Sarah H. for taking the time to write in! If you have a secret recipe you'd like to see on the site, send it to starbuckssecretmenu [at] gmail.com or post on any of our social media outlets.