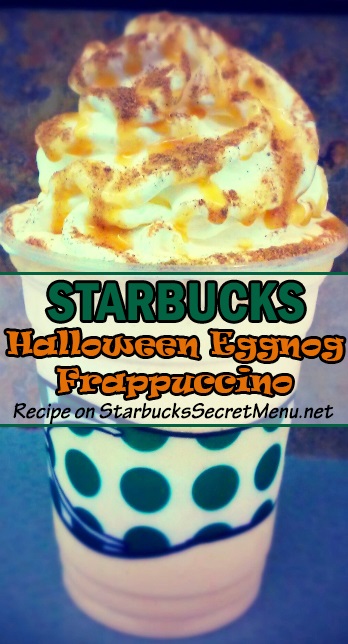 Halloween Eggnog Frappuccino

| Starbucks Secret Menu

We love a good eggnog that's rich, creamy and full of flavor! This Halloween themed eggnog definitely fits the bill.

While there's no actual egg in this nog, the pumpkin and caramel flavors paired with the thickness of this Frappuccino make a delicious taste-a-like treat.
Here's the recipe:
Crème Based Frappuccino
Made with heavy whipping cream
Add pumpkin spice syrup (2 pumps tall, 3 grande, 4 venti)
Add caramel syrup (2 pumps tall, 3 grande, 4 venti)
Optional: Top with whipped cream, caramel drizzle and pumpkin spice topping

Thanks to Starbucks Baristas Sara and Lexi for sending this creation in! If you have a secret recipe you'd like to share, send it to recipes [at] StarbucksSecretMenu.net and it could be featured on the site!