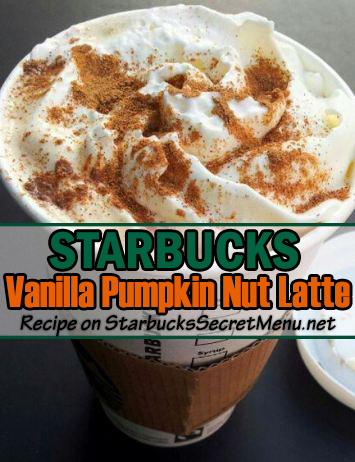 Vanilla Pumpkin Nut Latte

| Starbucks Secret Menu

We're huge fans of the Pumpkin Spice Latte! Although it's already quite delicious as is, we love this simple recipe that adds on a touch of vanilla and nutty flavor. They compliment the pumpkin perfectly without being too overpowering.

Is it possible to make something so good even better? Why yes, we think it is! Give The Vanilla Pumpkin Nut Latte a try and let us know how you customize your Pumpkin Spice Latte to make it even better!

This recipe can be enjoyed hot or cold.
Here's the recipe:
Pumpkin Spice Latte
Add toffee nut syrup (1 pump tall, 1.5 grande, 2 venti)
Add vanilla syrup (1 pump tall & grande, 1.5 pumps venti)
Thanks to valued Starbucks customer  Eriss J. of Vellejo, CA for sharing this recipe with us! If you have a secret recipe you'd like to share, send it in to recipes [at] StarbucksSecretMenu.net and it could be featured on the site! Please attach a photo if you have one J