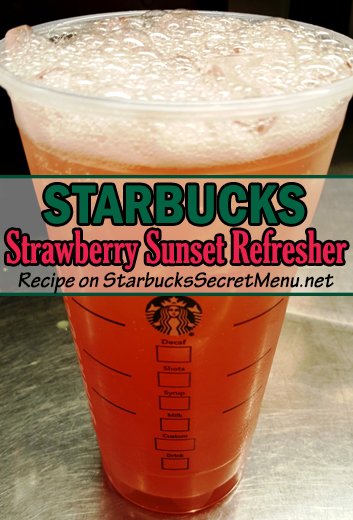 Strawberry Sunset Refresher

| Starbucks Secret Menu

We're all about options here at Starbucks Secret Menu, so ever since Starbucks introduced its fizzio beverages we've loved seeing all the different drink combinations and possibilities. Plus, we love a good fizzy beverage every now and then. Even better so when it doesn't come out of a can!

Although just about any flavour can be fizzed, we're partial to fruity beverages so this Strawberry Sunset Refresher really hits the spot. A mix of strawberry, mango, and peach make this fruity beverage fresh, fun and full of flavor!
Here's the recipe:
Strawberry acai to the first line
Water to the third line
Add mango syrup (1 pump tall, 1½ grande, 2 venti)
Add peach syrup (1 pump tall, 1½ grande, 2 venti)
Fizzed then poured over ice
Note: If your Starbucks location no longer has a Fizzio machine, this beverage can be enjoyed without fizz as well!
Thanks to Starbucks Shift Supervisor Justin C. of Fort Worth, TX for submitting this recipe and photo! If you have a secret recipe you'd like to share, send it in to recipes [at] StarbucksSecretMenu.net and it could be featured on the website!