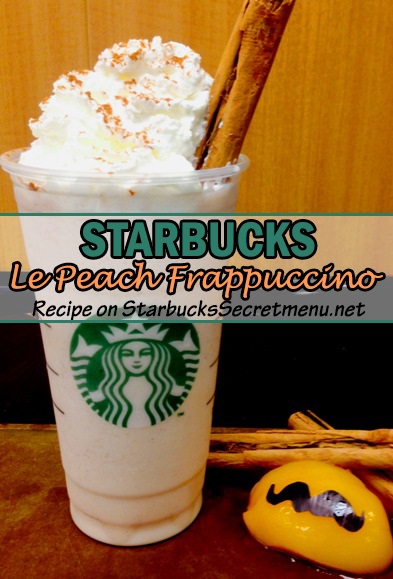 Le Peach Frappuccino

| Starbucks Secret Menu

If you pop into a Starbucks location and take a look at the promo chalkboards you might notice one that features a Barista favorite beverage or a customized store special.

Starbucks partners make tons of customized beverages day after day at work and are often the creative minds that come up with the new and exciting recipes that are shared on this website. After all, everyone's gotta have some fun at work and we love that Starbucks work environment encourages it.

Because of that work environment we have the Le Peach Frappuccino brought to us by Starbucks #433 in El Jebel, Colorado. It's a French Vanilla Peach Frappuccino and even though the French term for peach is le pêcher, we like the layman's terms version Le Peach for us non-French speaking folk. 

It's become a store favorite at #433 and we're sure it'll be a big hit elsewhere too!
Here's the recipe (without coffee):
Vanilla Bean Frappuccino
Add a small squirt of whipped cream with the whole milk base
Add hazelnut syrup (½ pump tall, 1 grande, 1 venti)
Add peach syrup (1 pump tall, 1 ½ grande, 2 venti)
Add vanilla syrup (½ pump tall, 1 grande, 1 venti)
Add a few strong shakes of cinnamon into the blender
Complete with crème base, top with whipped cream and cinnamon
Here's the recipe (with coffee):
Add espresso (1 shot tall & grande, 2 venti)
Slightly less whole milk
Huge thank you to Starbucks manager Shelly M. and her team at City Market #433 Starbucks for creating this gem and sharing it with us and the world!