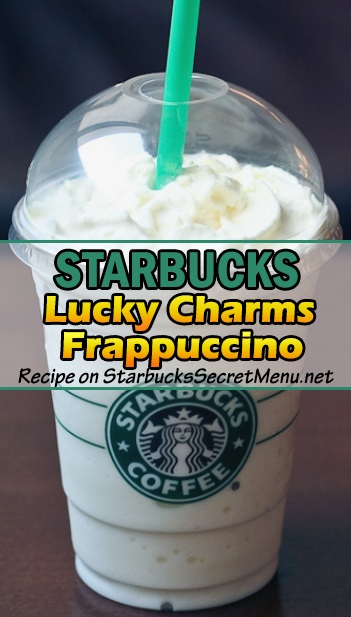 Lucky Charms Frappuccino

| Starbucks Secret Menu

With the new addition of the S'mores Frappuccino to Starbucks' summer menu, we have new ingredients like marshmallow syrup! One of the first things that comes to mind when we think of marshmallows is definitely Lucky Charms cereal.

Sure the whole grain cereal is good for you, but we all know the marshmallows are the best part!

So if you find yourself picking out the cereal bits and scooping as many marshmallows into your bowl as you can, you'll love this taste-a-like Frappuccino. It's magically delicious!
Here's the recipe:
Creme Base Frappuccino
Add white mocha syrup
(1 pump tall, 1 ½ grande, 2 venti)
Add marshmallow syrup
(1 pump tall, 1 ½ grande, 2 venti)
Blend and top with whipped cream

Thanks to Starbucks Barista Patrick C. for sending in this fun recipe! If you have a secret recipe you'd like to see on the site, send it in to recipes [at] StarbucksSecretMenu.net and it could be featured on the site!