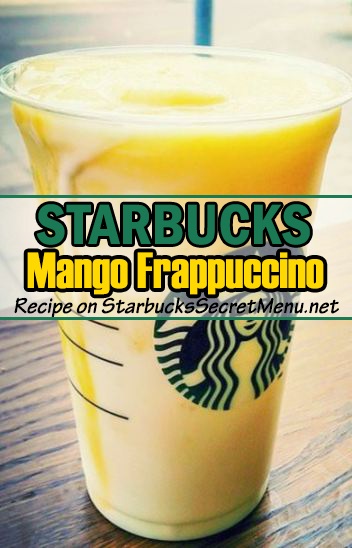 Mango Frappuccino

| Starbucks Secret Menu

We were ecstatic to hear that Starbucks decided to introduce a new menu item this summer, Black Mango Tea because along with black mango tea comes the ingredient mango syrup! Oh, how long we've waited for this miraculous flavor to make its way into Starbucks stores and into our longing Starbucks cups.

We are huge mango fans, and apparently so are many of you! We've received a huge number of drink submissions featuring the new coveted ingredient so mango lovers, be prepared to see many more mango recipes!

This basic Mango Frappuccino is sweet, simple and oh so delicious. One of our favorites!
Here's the recipe:
Vanilla Bean Frappuccino
Made with one less scoop of vanilla bean powder
Add mango syrup (3 pumps tall, 4 venti, 5 grande)

Thanks to Valery T. for sending this recipe suggestion in! If you have a secret Starbucks recipe you'd like to share, send it to recipes [at] StarbucksSecretMenu.net and it could be featured on the site! We'd love to hear from you.